Archive of News and Activities Sept 2020 - Dec 2021
We had a terrific holiday club from December 3 to 17, called "Exploring the good news of Jesus Christ this Christmas".  This was organised jointly with El Jireh Church and the Totaí Foundation.  80 children between 4 and 10 years old regularly attended.  We thank God for this very beautiful time in which we shared the word of God, had games, competitions, snacks and much more. We are very grateful to all the leaders and volunteers who ran these activities.
The group of ladies who take the crafts course, presented a Christmas fair at the foundation's facilities, with the purposes of showing what they make and selling some products to improve their family finances.
The medical team assisted at the local Military Regiments of the Army and the Air Force. We provided free medical attention, revision and ear washes, more than 500 people were reviewed, including soldiers, premilimaries and instructors. The commanders thanked the foundation's work for the prevention of ear diseases.
We closed the 2021 activities of our sports school with participation in the municipal championship.  In the 11 and 14-year-old boys' category, the team obtained third place.  The team playing in the 10-year-old girls' category obtained second place.  We are very happy with these achievements and we are looking forward to next year when, hopefully, we can again play in the championship stages.  
With much enthusiasm and joy but at the same time with a bit of sadness, the 2021 activities of the community area were closed for this year. We spent an afternoon full of games, contests, sweets and cake, thanking our Lord Jesus Christ for all this time shared, and praying for a year full of prosperity, health and work for the family of our community children.
Continuing with our planned activities, the ear and hearing care workshop was given to the teachers of the Evangelical School 4.  This training aims for educators to be the first to detect hearing problems in schoolchildren, as well as; prevention agents.
Thanks to Dr. Alexander Vargas, we carried out a very important training workshop in CPR and first aid for all the Foundation's staff.  This means we can respond in a more timely and effective way to any emergencies that arise.
The winning teams "Super Friends" and "Champions" were awarded with an afternoon of recreation in the pool of the Association of Civil Pilots of Beni. The contest was arranged as part of  the Community Classes organised by Prof. Carla Camader.   There was much joy and fun among the children. This contest consists of the accumulation of points throughout the year in programmed activities using the material "Adventures with faith of Moses and Joshua". We thank God for this beautiful time.
On November 3, our health team went to the town of Villa Banzer, 76 km from our city.  We carried out medical check-ups and delivered medicine for free to the inhabitants of that town, who were very grateful to the Foundation.
At the end of October the team celebrated 17 years of FT.  With words of encouragement and thanks from our President, Dr Miguel Arauz, we renewed our commitment to the community.  Also, mixed with sadness and joy, we said goodbye the 14 yr old Nicole Ribera who travelled to Spain to undergo spinal surgery.  She has spinal scoliosis and has been with us since 2019.  We pray for her speedy recovery and return to us.
From October 20 to 22, we carried out the free hearing screening campaign, thus benefiting people with limited resources who cannot pay for a normal consultation. More than 70 people were attended to and were very grateful to the institution.
We started the month of October with our activities in the town of San Ramon, 214 km away. We were with the greeting team on October 5 and 6, the population was very grateful to the Foundation for the treatments in ear care, audiological tests, aural washes and delivery of medicines free of charge.
Near the end of the month we organised a campaign to check eyesight in conjunction with opticians, Clarify Your Vision of Santa Cruz. Free eye tests were carried out and anyone needing glasses were able to purchase these at a very low price.
Our community children had a wonderful evening of dressing-up, games and snacks to celebrate the student's day, spring and friendship "September 21".  We thank God for these beautiful moments that allow us to share with our children and give them a time of happiness.
The basic level ear and hearing care workshop was held for the teachers of the Martha Hurtado Silva Educational Unit.  This workshop was very productive for the teachers since they will be the first to detect hearing problems in the children and young people of this area.
Our soccer school got new sports balls. Our children and young people could not hide their joy at having these for their daily training sessions.
With great enthusiasm, we continue to support our children in their virtual school classes, always grateful to God and to our brothers, for this great help of having state-of-the-art tables and internet access.  Also, through these tools they can develop their school research work.
From August 24 to 25, we went to the town of San Ignacio de Moxos, 90 km from our city, to carry out the health campaign. Ear examinations, audiological tests and delivery of medicines were carried out free of charge to the general population of the town. Likewise, the Workshop on Ear Care and Hearing was held for professionals in health and nursing at the Polytechnic of the Autonomous University of Beni. We thank God and the health team.
Our soccer player Irene Villarroel Solano, 11 years old, fractured her left arm on the field and needed surgery.  We were pleased to be able to help her family by purchasing a special titanium nail for her operation.  She is already much better and we pray to God for her speedy full recovery.
We were also able support one of our players, Luis Miguel Chambi Mopi with dental medical care.  Thanks to Dr. Alfredo Martinez who did an extraction and a thorough examination of all his other teeth.
From August 9 to 13, the third molar extraction campaign (wisdom tooth) takes place thanks to Dr. Marco Ramallo – Maxillofacial Surgeon.  This benefited more than 12 people who were not from our city but were referred to FT because of the complexity of extraction. God willing, we hope Dr. Ramallo will work with us permanently. 
On Monday, August 16, all FT personnel were trained in Biosafety and Treatment of Solid Waste in Health Establishments by the personnel of SEDES (health service of the Beni Region). It was very important to answer questions on this vital issue in the current times of pandemic.
On August 3, our health team moved to the town of San Andres 33 km. Free care was given in ear and hearing care, general medicine, covid-19 care, audiological tests and drug delivery. 42 people were treated.   Training was also provided to the town's Health Centre staff.  Everyone was very grateful for all the work done by FT.
On July 29, our health team moved to the town of Camiaco, 57 km away. Free care was given in ear and hearing care, general medicine, covid-19 care, audiological tests and drug delivery. 85 patients were seen and were very grateful to FT and all the personnel who attended.
Dr. Miguel A. Arauz – President of the Totaí Foundation, held a press conference to announce our new services to help the community.  These include the Virtual Classroom Support, for children and youth of our community.
In order to be able to communicate with deaf people, our staff has restarted the sign language classes, with Lic. Edgar Bersatti, professor at the Beni Deaf Association.
On July 7, the Dental X-ray team was officially inaugurated by Dr. Alfredo Martinez – Odontologist.  This equipment will provide detailed panoramic skull x-rays for children and adults. We thank Dr. Martinez, for his support and assistance.
A video (click to download and view the video) was created in April 2021 to give Cartsbridge Church an update on the ongoing work at Foundation Totai in Bolivia.  It lasts just over 7 mins and provides some background to the project as well as an update on the scope and progress of the project. 
Labour Day:  Commemorating the day of the worker, we prepared a fellowship lunch for the staff.  It was a very good moment to renew our commitment to our work for the benefit of our community.
Life story:  FAL patient of 1 year and 6 months of age arrived at our facilities, referred by the Maternal and Child Hospital, to be examined by our ENT doctor.  She had been rescued by the SEDEGES Beni Children's Home as a result of complaints of physical abuse by a family member.  SEDEGES Beni staff asked for free care for this patient so we immediately activated the child protection protocols and our ENT doctor carried out an examination.  We carried out audiological tests and were very thankful to find that she had normal hearing. The Foundation will take care of all the necessary medical check-ups and audiological tests and the timely follow-ups until her full recovery.  We give thanks to God for the good outcome and for our being able to provide the necessary care at this difficult time. 
On April 26 and 27, more than 15 nurses from all the Trindad health centres received training on ear health, including otoscopy and aural lavage.  This enabled the nurses to carry out this type of work in their own respective centres.
Children's Day in the Sports Area.  All the children from the soccer school had a great time and were entertained with a snack.
On 20 April we carried out a health programme in the "Sagrado Corazon de Jesus" nursing home.  We carried out consultations for general medicine, covid-19, hearing checks, audiological tests and medications. 38 elderly people from the home were checked free of charge.
We carried out a Free Ear Checking and Cleaning Campaign, for Bolivian Children's Day week.  More than 200 children were seen.  They had their ears checked, cleaned and audiological tests were performed.  It was an important work of support to the community and an opportunity to promote the services offered by the Foundation.
Happy Bolivian Children's Day!   Our community children were treated to an afternoon of games and prizes.  They had a wonderful time and  ended the celebrations with a delicious snack. 
On Tuesday, March 30, our health team travelled 12 km to provide free care in the rural town of Puerto Varador, another village very badly affected by floods. The team carried out general medical exams and a variety of other COVID-19 related work, ear screening and washing, and free supply of medicines.
On Thursday, March 25, our health team travelled 9km to provide free care in the rural town of Puerto Ballivian which has been badly affected by floods.  The team carried general medical examinations and a range of other work related to covid-19, review and washing of ears and delivery of medicines. 
2 new pieces of health equipment have been purchased through CBM International funding. These are: (1) a WEM electrosurgical unit which will allow us to perform ENT surgeries with greater precision, and; (2) a digital Interacoustics Audiometer for the audiology area, to provide a better service and guarantee more accurate results.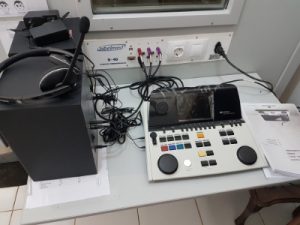 To celebrate Father's Day March 19, our community children made their first craft work, making greeting cards to be given to their dads.
On Monday March 8, we restarted community classes.  The children were very happy to return to our classes.  FT health staff led with a session on coronavirus prevention measures, we played games and they served themselves a delicious snack.
We are delighted to hear that a number of the FT staff received their first dose of the Sinopharm covid-19 vaccine and they expect to receive their second dose in the next 21 days.  
The local neighbourhood sports field is being prepared for the new season of football training sessions starting on March 8.
Simon Howling has spent 2 years with us supporting El Jireh Church and also as a volunteer sports assistant in our soccer school however this month his time with us came to an end and he returned to England. We are so grateful to him and thank God for his life and for having brought him to us. We wish him many blessings for the future.
We are delighted that Brian Justiniano Aguilera from the city of Cobija in the Pando region of Bolivia, has arrived as a volunteer. He is a member of Iglesia Cristiana Misionera, and affiliate of Misiones Cristiana Bolivia. Brian is joining the El Jireh Church and will be supporting the activities of the sports school. He will also be visiting the children's families along with Sam, another instructor. We pray that the work will prosper and that they will be a blessing to all.
We continue to support the local community.  In order to prevent the spread of covid-19 in this second wave, we gave reusable face masks to the IDEPSO School for the Deaf, the children's home of SEDEGES, and to the motorcycle taxis that carry out public transport in our city.
To help prevent the spread of Covid-19 we provided the local children with reusable face masks. We also explained to them what they need to do to keep safe.
The closing of the 2020 FT football training took place.  The players received their respective medal and recognition and all shared a delicious lunch together. The CBM coordinator used the opportunity to provide reusable chinstraps which are now part of the kit required to comply with Covid-19 good practice. 
Our community children are very happy making Christmas decorations to take home.  Teacher Carla Camader, is in charge of helping and encouraging them.
From December 5 to 12, the handicraft ladies participated in the entrepreneurial Women's Fair organised by the House of Culture.  It was an opportunity to show the work they do in the handicraft classes taught by the Foundation.
On November 19 and 20 we had the visit of Eng. Luis Rico – Consultant for CBM international, who is carrying out the audit of the Bolivia Hearing Health project.  The audit reviewed the social impact that the project activities have had on the lives of the beneficiaries.  The work resulted in an excellent impression of the work that Foundation has developed over many years.
We held a Zoom based virtual workshop on Hearing and Hearing Care for 60 students and health professionals. The workshop was led by professionals Dr. Romina Ribera and Lic. Mayerlin Garron and monitored by the coordinator Ana Urquiza.
We reached the town of San Pedro, 61 km away from our base.  We carried out medical consultations, audiological tests and distributed free medicines.  79 people were treated.  Our Community and Sports teachers worked with the children and youth of San Pedro.  We shared the word of God and carried out sports activities with them (and finished with delicious snacks).  People were very grateful to the Foundation – especially since no doctors go to that town.
To commemorate one more anniversary, a dinner was organised for the FT volunteers and staff who support the development activities.  It was a very beautiful moment that allowed us to thank our Lord Jesus Christ for another year of life and renew our commitment to continue working for the benefit of society.
In honour of the 16th anniversary of FT, on October 29, an internal championship was organised with the children from the soccer school. We are grateful to God for these moments of fun among the children.
We started our school support classes for our local children, taking all the biosecurity measures. 

The support subjects included mathematics, language and values.  The children were very happy to start these classes again.
Our children from the community classes benefited from free medical care, audiological tests and medications; Likewise, they were given school supplies prepared by our teacher Carla Camader, as school support.
In the International Week of the Deaf, Foundation Totai carried out medical check-ups, audiological tests and delivery of medicines free of charge to the Beni Association of the Deaf (ASORBENI) and the special school for the deaf IDEPSO.  Beneficiaries were very grateful.
In September our health team arrived in the rural town of Sachojere (27 km from our city), to carry out medical check-ups, covid-19, audiological tests and delivery of medicines free of charge to the residents of said town. It was a good time to share the word of God with the children and to do sports activities.
September 2020…….Covid-19.   Quarantine rules were relaxed in Trinidad on September 10 so the activities of the Sports Area began again.   For this, a medical check-up, training in ear care and covid-19 care began for young people who attend our school.